Halimah Selamat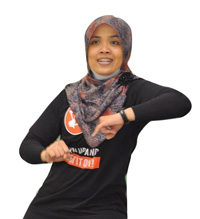 Losing weight was not an easy task for her in the beginning. Nevertheless, she always believes in, "nothing will change, if you change nothing".
After attending group fitness classes regularly, Halimah started to realise that it is not only about losing one's weight but also about having fun with people around you and not realising that you are actually working out.
Since then Halimah was determined to inspire people to lead a healthy lifestyle in a wacky and crazily fun dance workout. She goes by, "Live to Aspire, Inspire and not forgetting to Perspire".
So what are you waiting for? Come and experience BollyDazz & Zumba Fitness with Halimah in Bolly Dancing Studio.
Certification
Schedule