Hello, all maids-of-honour! We know you're incredibly excited for your friend who's getting ready to tie the knot and we're right there with you. One of your duties is to plan the hen night and if you're struggling to pin down the perfect plan, you're in the right place. As the bride-to-be's confidant at every stage of the wedding planning (and, to be honest, her entire life) you know that wedding planning can bring with it a lot of stress. This is why we propose a night of dancing away your worries with your closest female friends and making memories all at the same time. How (and why) to plan an epic Bollydancing Hen party for your bestie? Read on to find out!
Bollywood is all about love, drama and energetic dance sequences. Bollydancing lives up to its name in all of those aspects. For your hen party, we'll teach you a dance routine from our BollywooD BlinG course that's going to make you burst out in giggles with your girls while arming you with choreography that's going to burn the dance floor if you choose to do an impromptu performance at the reception. It's sixty minutes of curated fun for the bride and her girlfriends and here's how you can make a whole day out of it.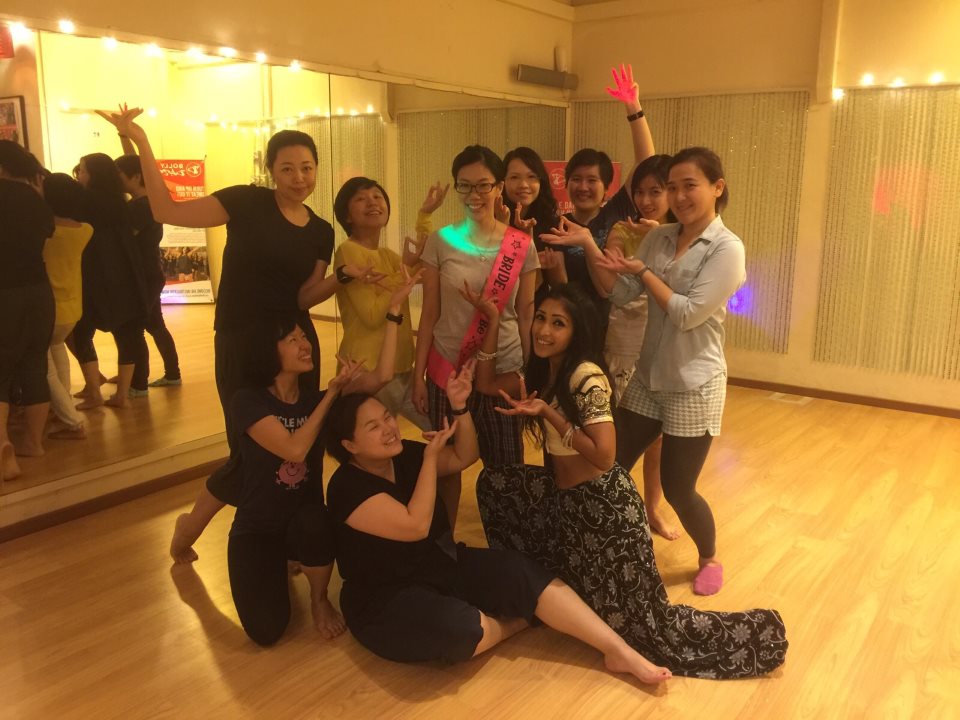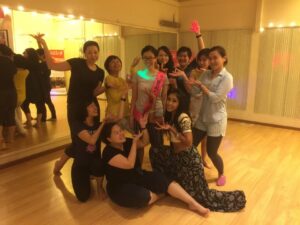 Before the day
Send out your dance-themed hen party invites to all the women the bride-to-be wants to invite well ahead of time so you know how many people we can expect. You can even send them a Bollywood playlist to get them in the groove of things! Once you have the numbers, make your bookings and gather supplies. Props are absolutely essential of course - you can't have a hen party without a bride-to-be sash, some matching t-backs or spaghetti tops for the bridesmaids, and maybe even a flower tiara. You can organize personalized goodie bags for each and every attendee made that hold all of their essentials for the day. (PS: A group chat with all the bride's friends goes a long way to help with all the planning and delegating of some of the tasks!)
On the day
We suggest a good night's rest so your energy is at its peak! Gather at the meeting point, fresh and ready to party all day long. Might we suggest a smoothie joint or a fro-yo parlour as your first stop for the day? You can distribute any goodie bags you've curated here, grab a quick snack while catching up, get a few pictures before you get a little sweaty and get charged for the day ahead. 
Bollydancing party
Make your way to our studio - your chariot can be anything from a fancy rented limo to keep your party private to an MRT carriage calling out their congratulations in public! Once you arrive, the responsibility to make the next 60 minutes full of enjoyment is ours. We'll pick out the best music that Bollywood has to offer, from "item numbers" to chart-toppers and not only teach you the famous hook steps but also the facial expressions that go along with them. From grace to sensuality, you'll be able to express all your feelings with dance by the end of this session. Dress comfortably - we recommend harem pants - to make the most of your time with us. 

After the session
Once you've burned off calories, it's time to load up on them again! Depending on what the bride enjoys most, you may want to hit a local bar (remember to reserve a table if you're a big group!) and play some bachelorette party games (many of them just a simple google search away) and even show off some of the moves you just learned! Or opt for a classic sleepover with a fancy dress ramp walk down the hallway and good-old dance parties and karaoke in the living room. One essential for both of these plans? A cake! You can get as creative with the theme as you like so that it's not only a treat to your taste buds but also to your funny bone as well. It's best to find a baker with good reviews and place your order with them at least a week in advance to avoid any surprises.
Contact our team
We're here to help you plan the best day for your friend so don't hesitate to reach out to us if you have questions! Remember - Bollywood dancing has a host of amazing physical and mental health benefits and has been described as the perfect stress reliever by many of our clients. It's suitable for people of all ages and fitness levels, so everyone on the bride-to-be's list will feel equally involved in and invigorated by this group activity!