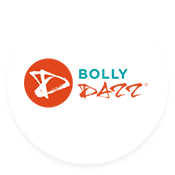 Bolly Dance Studio is happy to introduce to you our new international modern fitness workout program, Bolly DaZz® Fitness! Combining Bollywood dancing with a modern, high-intensity cardio workout and weight training, Bolly DaZz® Fitness offers a fun-packed, total-body workout that allows you to burn even more calories while still having a great time as you strut your Bollywood dance moves. Losing weight and getting toned has never been more fun and result driven, leaving you with a smile after each class.
It doesn't matter what your fitness level is or if you've never danced in your life; Bolly DaZz® Fitness is for everyone and is fully adaptable to your body type and existing ability. Have fun, get fit, avoid injury and feel excited for your next class!
We also offer Certified Instructor Training so your fitness instructors can become licensed Bolly DaZz® Fitness instructors. Have your regular clients busting their Bollywood moves on your gym floor in no time!
It's time to move your body and get motivated by the infectious
Bolly DaZz® Fitness dance workout!
Bolly Dazz® Fitness is an International Bollywood fitness class that combines cardio and resistance training for a total body workout. Experience fun based, easy to follow dance and fitness routines on 13-14 latest Bollywood numbers that include working out with body weight exercises, lightweight dumbbells (1-2 songs) and resistance tubes (1 song) perfect for losing weight and getting toned!
When can I join? Drop in to this class any time. There is no continuity between any two Bolly Dazz Fitness classes.
We do virtual livestream class for our studio members, non members as well as corporate clients.