Zumba Toning
Party Yourself into Shape with Zumba Toning!
Take a Zumba Toning Trial Class at Just $20! Call us on 90621412 or BOOK ZUMBA CLASS ONLINE!
When it comes to body sculpting, Zumba® Toning raises the bar (or rather, the toning stick). It combines targeted body-sculpting exercises and high-energy cardio work with Latin-infused Zumba moves to create a calorie-torching, strength-training dance fitness-party. ZUMBA® TONING is an innovative muscle training program with the addition of lightweight, maraca-like Toning Sticks to enhance rhythm and tone all their target zones, including arms, abs and thighs. Zumba Toning is the perfect way for enthusiasts to sculpt their bodies naturally while having a total blast.
This is the original dance-fitness class taken to the next level. It will incorporate another level of intensity that is FUN! We will take getting toned to a whole new level!
* Best enjoyed with friends, family and colleagues.
ZUMBA FITNESS PROGRAM AT BOLLY DANCING:
The Zumba program is the most effective, innovative and exhilaring workout designed for everyone. Its a blast! The Zumba Program is excersise in disguise. Don't miss the fun. Party starts right here at Bolly Dancing Studio!
Learn from Bolly Dancing's Zumba Certified Instructors. Its different! The music, the steps, the moves, the class, the energy…
Nothing compares to a Zumba Fitness class. Its easy. Its effective.
Zumba is known for the Zesty Latin Music like Salsa, Merenguw, Cumbia and reggaeton; And as you know, we love to do it on Bollywood Music!
This class is a great way to get in touch with yourself!
Who Should attend? Class is open to all adults. No upper age limit. No dance experience required!
What to bring? Towel | Athletic Shoes or Dance Sneakers | Form Fitting Workout Attire
---
---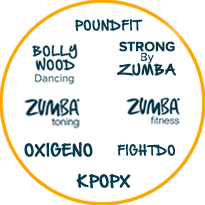 All classes include:
With our Membership you can do multiple classes everyday!
Choose to attend ANY type of regular class or timing available at Bolly Dancing Studio
YES! I WANT TO START BOLLY DANCING TODAY!
Some of our
supercharged students
Love how I managed to work up a sweat in 45 mins! Everything was fast-paced and fun!

Good energy, it was a different concept! Mixed up dance with weights, interesting. I would say difficulty level beginner to mid, highly recommend Chitra. Great songs, good choreography as well.

ClassPass

Positive: Communication, Professionalism, Quality
I like to attend Chitra Sunday Zumba toning Class, she always full of energy and give me the positive vibe.

Esther Moh