About the Founder – Anjali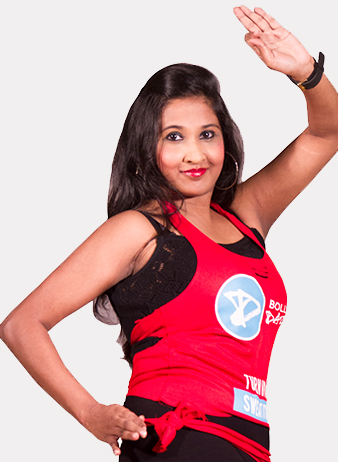 Originally from Mumbai(Bombay), Bollywood choreographer and Zumba Fitness Instructor Anjali Savla is a pioneer of Bollywood Dancing in Singapore. Founder and Artistic Director of Bolly Dancing Singapore and Co-Director of Bolly Dancing Mumbai, Anjali combines her formal Indian classical dance training with 18 years of contemporary Western dance and fitness experience. Her 'East Meets West' dance fusion and unending love for Indian music are appealing to all dance fitness fans and have created awareness about benefits of Bollywood Dance & Zumba Fitness island-wide.
A specialist in Mass Bollywood & Zumba workshops, Anjali has conducted sessions for up to 6,000 enthusiasts at one go. She regularly holds corporate dance and fitness based team-building sessions island-wide and trains students for dance festivals, TV shows and auditions. She trained her students to represent India at international dance festivals in Europe and Thailand. Anjali also trained dancers for the Bollywood blockbuster movie 'Kuch Kuch Hota Hai' starring famous Indian actor Shahrukh Khan. She choreographed dance and trained Bollywood star Abhishek Bachchan for his performance at a private function. Anjali also choreographed dances for 'Natchathiram', Vasantham TV channel's reality show. Anjali's passion for dance includes Indian folk dances such as Bhangda (North Indian folk dance), Assami (folk dance of Assam), Dangi (folk dance of Maharashtra), Santhal (Bihari folk), Kargattam (South Indian folk dance), Garbo and Gajiyo(Folk dances of Gujrat), Tera-Taal & Ghumar (Rajastani folk dance). Among Western dances, Anjali is passionate about Salsa, Hip-Hop, Jive and Jazz, in which she received formal training.
Anjali is an American Council on Exercise® Certified Professional and a licensed Zumba Fitness, Zumba Toning, Zumba Gold, Zumba Sentao Zumba Gold-Toning, Zumba Core & Bokwa Fitness Instructor.
Anjali is the creator of the following trademarked courses: BollyDancing Choreo, BollywooDBlinG, BollyFitness, BhangraFitness and BollySalsa. Her enthusiasm is contagious while her energy and charisma create a fun environment that makes her classes exciting and inspiring, allowing you to get rid of your inhibitions and really let go through the dance.
Anjali has been featured by:
The journey of my dancing has begun with your dance studio in 2018. Learning dance under the guidance of the instructors is truly a bliss. Thank you Bolly Dancing Studio for making every dance class so memorable and mesmerising. I am very grateful to the instructors ( special thanks for "Miss Anjali" ) for taking out the time and resources to help beginners like me to learn dance.
Ankita Dey
Wow! Where to start with..I am so proud to be one of the oldest members of BDS. The way it has grown is highly commendable. Definitely it has happened only because of the hard work the management has put in. I personally have seen the efforts they put effortlessly to keep the fire on - to serve the members an amazing experience every single time we step in the studio. Thank you Mihir Wani, Anjali, Sejal and Jasmine Savla for all your efforts to entertain us in many ways - through in-studio classes as well as online via Zoom. The best part is we never feel we are working out, all we have to do is just to enjoy the brilliant music with easy to do, fun steps in a wonderful atmosphere - along with other members.
Sangitha K